It's DeSola - It's Delicious
Is there anything
better than New York
Pastrami?
New York Corned beef?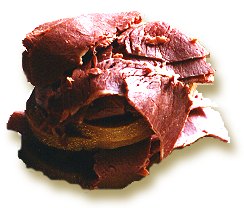 DeSola Provision Corp. is the direct source
for the same pastrami, corned beef, salami and cheesecake
served by world famous delis from New York to Hawaii.
Now, no matter where you live, you, too, can treat yourself to the
food of the stars!
ORDER AUTHENTIC NEW YORK DELI TODAY!


The Source | Products | | Contact Us | Home |